2015 has been the first year that I have made a proper effort toward growing my own fruit and vegetables. I've planted tomatoes, strawberries, potatoes, spring onions, herbs and salads.
My girls have enjoyed helping to plant the seeds and water the plants with me. They're really looking forward to being able to pick the fruit and vegetables when they're ready.
As mentioned above I planted some strawberry plants indoors in a medium sized pot and some outdoors in a large strawberry planter.
I was curious to see if the ones indoors would do better than the ones outdoors and vice versa.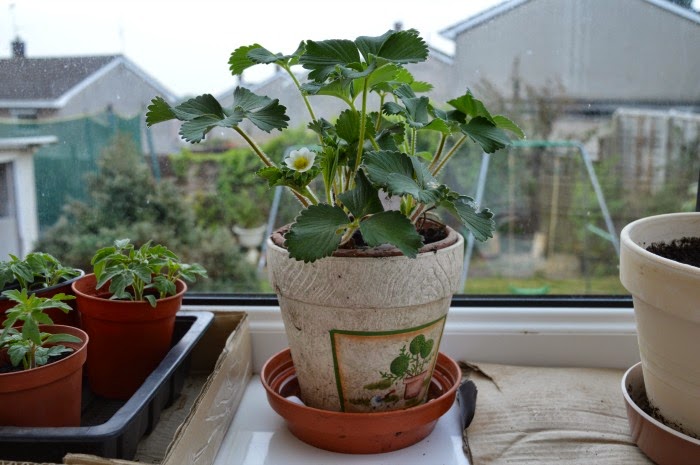 I kept the indoor strawberries in my conservatory as it gets very warm in there.
I made sure to water them every day, which I also do with the outdoor strawberries. I planted both of them at the same time and all the conditions were exactly the same except one was indoors and one was outdoors.
Within the space of two to three weeks the indoors plant started to flower and we now have some green strawberries growing. R and M are very excited to pick them when they're ready and I'm even more excited to taste them!
The strawberry plant outdoor hasn't long started to flower so it definitely goes to show that they grow quicker indoors.
I wonder if they'll taste any different? I'll keep you updated!
Do you grown your own fruit and vegetables?